Sourdough Doughnuts with Yogurt
A doughnut, anyone?
Yes, please. And not one, at least two or three. Because these are soooo good, that you won't be able to stop at just one.
That's why I don't make them often. Otherwise I'd be resembling one probably.
My curiosity was trying to make them with sourdough starter. Not an easy task, takes time and patience but with a good recipe I managed to make some really good sourdough doughnuts. Scented with honey, lemon and orange zests.
Try resisting a tray full of these. Soft, warm, with sugar sticking to your face and everywhere else.
Go on, hurry up and make some of these!
Sourdough Doughnuts with Yogurt
(
recipe
from blog Il crudo e il cotto)
* 500 g strong flour
* 200 g plain yogurt
* 120 g sourdough starter
(***or 10 g fresh yeast)
* 100 g milk
* 80 g butter
* 60 g egg yolks (3 medium sized yolks)
* 120 g fine caster sugar
* finely grated zest of 1 organic orange
* finely grated zest of 1 organic lemon
* 1 vanilla bean
* 1 TBspoon honey
* a pinch of salt
* oil for frying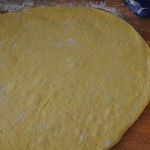 Warm up the honey just enough to make it liquid. Add the grated lemon and orange zests to the honey along with the scraped vanilla seeds.
Put the slightly lukewarm milk into the bowl of the stand mixer, add the yogurt, the sugar and the salt. Mix to combine.
Add the sourdough starter torn into small pieces (of course the sourdough starter should be refreshed 4-6 hours before you start preparing the dough). Mix until the sourdough starter has been incorporated, then add the egg yolks.
Add the sifted flour and knead the dough with the paddle attachment for 10 minutes, until the dough becomes smooth.
Add half of the softened butter, teaspoon at a time, waiting for the previous adding to be incorporated before adding a new portion. Then add the remaining half of the butter, previously melted and cooled. Add the aromatic mixture of honey and citrus zests.
Switch the paddle for hook attachment and knead the dough well.
Transfer the dough to a slightly floured kneading board and knead shortly by hand.
Place the dough into a clean, lightly oiled bowl and let it proof until double in size (it may take any time between 3 and 6 or 7 hours, depending on temperature and the strength of your sourdough starter).
Once the dough has doubled, drop it on a floured kneading board and roll out using a rolling pin to 1/2 cm thick. Using a doughnut cutter (with a whole in the middle) cut out the doughnuts and place them on a floured cloth. Cover them with another piece of cotton or linen cloth and let rise again until doubled in size.
Heat plenty of oil (I use peanut oil) in a deep pan to 160°C.
Fry the doughnuts until golden brown. Watch the temperature carefully - should the oil get too hot, doughnuts will brown too quickly on the outside but won't cook properly on the inside.
Place the doughnuts on paper towl for a moment to absorb the excess oil, then roll into sugar while still warm.
Let them cool a little before serving.
Once they have cooled down, you can also freeze them.
Graffe allo yogurt con lievito madre
(
ricetta
dal blog Il crudo e il cotto)
* 500 g di farina forte (manitoba)
* 200 g di yogurt bianco naturale
* 120 g di lievito madre
(***oppure 10 g di lievito di birra fresco)
* 100 g di latte
* 80 g di burro
* 60 g di tuorli (3 tuorli medi)
* 120 g di zucchero semolato
* scorza di 1 arancia non trattata
* scorza di 1 limone non trattato
* semi di 1 baccello di vaniglia
* 1 cucchiaio di miele
* un pizzico di sale
* olio per friggere
Scaldate il miele tanto quanto basta per renderlo liquido e mescolatelo con la scorza finemente grattugiata di arancia e limone e semi di un baccello di vaniglia.
Mettete il latte tiepido, lo yogurt, lo zucchero e il sale nella ciotola dell'impastatrice. Mescolate con la foglia fino a rendere tutto omogeneo. Aggiungete il lievito madre spezzettato (rinfrescato 4-6 ore prima di impastare).
Mescolate finché il lievito madre non si sarà sciolto e poi unite i tuorli.
Aggiungete la farina setacciata i impastate per 10 minuti con la foglia fino a rendere l'impasto liscio.
Aggiungete metà del burro ammorbidito, un cucchiaino alla volta aspettando che venga assorbito prima di aggiungere quello successivo.
Unite poi il restante burro fuso e lasciato raffreddare.
Alla fine unite il misto aromatico di miele, vaniglia e le scorze di agrumi.
Una volta assorbiti tutti gli ingredienti, sostituite la foglia con il gancio e lavorate l'impasto ancora per qualche minuto.
Trasferite l'impasto sulla spianatoia leggermente infarinata e lavoratelo brevemente con le mani. Formate una palla e mettetela in una ciotola pulita unta con un velo di olio. Coprite la ciotola con il coperchio o sigillatela con la pellicola alimentare.
Lasciate l'impasto lievitare in luogo caldo fino a duplicarsi (potrebbero essere necessarie dalle 3 alle 6-7 ore, dipende dalla temperatura e la forza del lievito).
Una volta duplicato in volume, trasferite l'impasto sulla spianatoia infarinata e stendetelo con il mattarello a 1/2 cm di spessore. Usando un coppapasta per ciambelle (o due coppapasta di diametro diverso, uno grande e uno piccolo) ritagliate tante ciambelle.
Non reimpastate i ritagli, semplicemente tagliateli a pezzi e friggeteli così come sono.
Sistemate le ciambelle su un telo infarinato, copritele e lasciatele lievitare fino al raddoppio.
Scaldate l'olio a 160°C (uso l'olio di arachidi).
Friggete poche ciambelle alla volta rigirandole più volte finché prendono un bel colore. Attenzione alla temperatura, se troppo alta, le ciambelle si cuoceranno troppo velocemente al esterno e rimarranno crude al interno.
Scolatele brevemente sulla carta assorbente e cospargete ancora calde con lo zucchero semolato.
Lasciatele raffreddare e poi servite.
Naturalmente, le ciambelle sono ottime appena fate o comunque fino a qualche ora dalla cottura. Anche se rimangono abbastanza morbide fino al giorno dopo. Si possono anche congelare una volta fredde.
Krafne s jogurtom i prirodnim kvasom
(
recept
je s bloga Il crudo e il cotto)
* 500 g brašna za dizana tijesta
* 200 g običnog jogurta
* 120 g prirodnog kvasa / kiselog tijesta
(***ili 10 g svježeg kvasca)
* 100 g mlijeka
* 80 g maslaca
* 60 g žumanjaka (3 srednja žumanjka)
* 120 g sitnog kristal šećera
* naribana korica 1 naranče
* naribana korica 1 limuna
* sjemenke 1 mahune vanilije
* 1 žlica meda
* prstohvat soli
* ulje za prženje
Zagrijte med tek toliko da postane tečan i pomiješajte ga s naribanim koricama limuna i naranče. Dodajte sastrugane sjemenke vanilije.
U zdjelu stolnog miksera stavite mlačno mlijeko, jogurt, šećer, sol. Miješajte se sjedine.
Dodajte kvas nakidan na komadiće (naravno kvas nahranite 4-6 sati prije nego ćete krenuti s pripremom da bi bio u punoj snazi).
Miješajte da se kvas razgradi, a onda dodajte žumanjke.
Dodajte prosijano brašno i mijesite tijesto 10-ak minuta lopaticom, dok nije glatko.
Dodajte polovicu omekšalog maslaca, dodajući žličicu po žličicu i čekajući uvijek da tijesto prvo upije maslac koji ste dodali prije nego dodate još.
Dodajte zatim preostali maslac, istopljen i prohlađen.
Na kraju dodajte mješavinu meda i korica.
Izmijesite dobro mikserom, promijenite lopaticu u kukasti nastavak. A zatim kratko i rukom na malo pobrašnjenoj dasci.
Oblikujte kuglu i stavite tijesto u malo nauljenu posudu.
Ostavite tijesto na toplom da se diže dok ne udvostruči volumen (može vam trebati najmanje 3 ili do 6-7 sati, ovisno o jačini kvasa i temperaturi).
Rastanjite tijesto valjkom na pobrašnjenoj površini na 1/2 cm debljine. Režite kalupom za krafne s rupom (ako nemate kalup koristite jedan veći okrugli i jedan manji za rupu u sredini). Stavljajte izrezane krafne na plah pokriven pobrašnjenim pamučnim platnom. Pokrijte ih i ostavite opet da se dižu dok se ne udvostruče.
Zagrijte ulje na 160°C (preporučuje se ulje od kikirikija).
Pržite krafne dok ne dobiju lijepu boju s obje strane. Pazite na temperaturu - ako se ulje pregrije krafne će se brzo ispeći izvana, ali će ostati prijesne iznutra.
Stavite ih kratko na papir da upije masnoću, a zatim ih još vruće uvaljajte u kristal šećer.
Pričekajte da se prohlade pa ih onda tek poslužite.
Možete ih također zamrznuti kad se ohlade.